Aloys:
To facilitate the nexus/prin pahts transport mechanism, the city (and the nexus/prin pahts) will require several linking points to be added. As we agreed in
this other thread
, we don't need a linking point (and pedestal) for each thread, only for the courtyards.
I took the liberty of numbering the courtyards, as shown in the diagram below: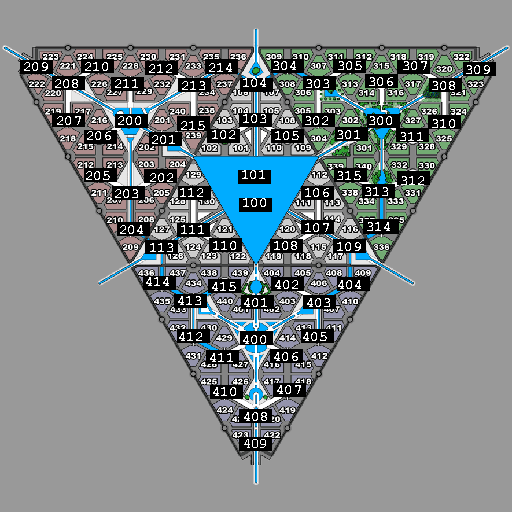 The courtyard numbers have a hundreds digit that matches the district number. The courtyard numbers increase in the same order of traversal as the shells do, per district.
Note: the central courtyard containing the hub has two "courtyards": one for the lower level of the hub, and one for the upper level.
So, I propose that the linking points in the city each have follow the naming convention:
lpc

NNN
, where
lpc
stands for "linking point city" and
NNN
is the courtyard number. These linking points are placed in each courtyard.
Similarly, in the nexus/prin pahts, linking points will be placed on top of the map on the floor in similar locations, except they will have the following naming convention:
lpn

NNN
, where
lpn
stands for "linking point nexus".
Next to each of these linking points will be a pedestal and a linking book. They too can follow a similar convention:
pedc

NNN
and
pedn

NNN
for the pedestals, and
bookc

NNN
and
bookn

NNN
for the linking books.
[EDIT] With the clickables support now available in Blender, clickable regions must be added to enable the clicking of the books. So, each clickable region for the city and for Prin Pahts/nexus would have the following naming convention:
crc

NNN
and
crn

NNN
The main reason for the naming convention is so that it makes writing the script easier. If the pedestals/books use the same convention as the corresponding linking points, then the script code can use loops and generate the names automatically, making it more compact and less buggy.
What do you think?
Note: we don't have to add all the linking points/pedestals/books right away; we can just add the district center ones for now.